Christmas Tree Cake. #cake #christmas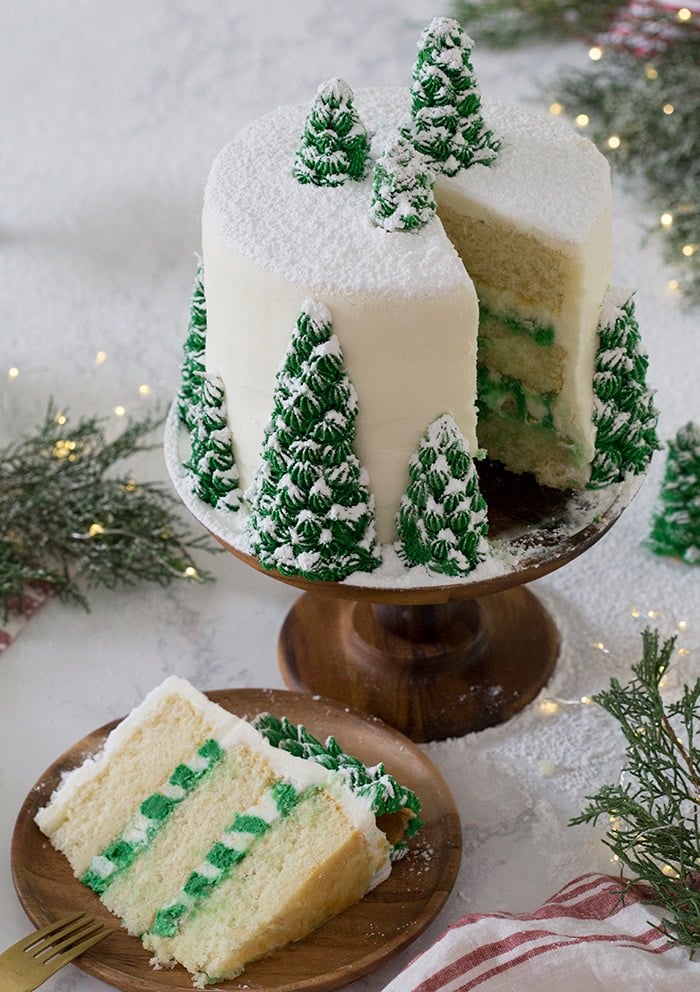 Ingredients:
For the Cake
1 2/3 cups all purpose flour 213g
1 cup granulated sugar 200g
1/4 tsp baking soda 1g
1 tsp baking powder 3g
1/4 tsp salt 1g, heaping, optional
3/4 cup unsalted butter 176g, room temperature
3 egg whites
1/2 cup sour cream 120g
1 tbsp vanilla 15mL
1/2 cup whole milk 120mL
1/2 tsp peppermint extract, optional 2.5mL
For the Buttercream
1.5 lb confectioners sugar 680g
1 lb unsalted butter 454g
1-2 tbsp heavy whipping cream If needed for consistency
1 tsp vanilla extract 5mL
5 drops green food coloring for the trees
For the Assembly
12 ice cream cones
Instructions:
For the cake
Butter and flour three 6-inch pans. I use damp cake strips on my pans for more even baking as well. Preheat oven to 340F.
Sift the dry ingredients together in a large bowl. In a separate bowl, beat the wet ingredients together.
Add the wet to the dry and mix until combined. Divide the mixture evenly into the cake pans. I like to use a kitchen scale to measure for even layers.
Bake for 30 -35 minutes or until the centers are set and springy.
Let the layers cool in the pans for about 4 minutes, then dump each layer out onto a cooling rack.
For the Frosting
Cream the butter. Add the sugar and mix on high. Add the vanilla and salt. You can also add milk a tablespoon at a time to get a smoother consistency if needed.
Divide the buttercream into two batches. For the colored batch, add the green food coloring, mix until combined.
For the Assembly
For the Christmas trees on the side of your cake, use a serrated knife to cut the ice cream cones into different sizes. Once you have a variety of desired sizes, carefully cut them in half.
Use a number 30 tip to pipe star-shaped dollops onto the surface of the cone beginning at the bottom and working to the top. Place the cones that have been cut in half on around the side of your cake before piping.
When all of your trees have been piped and placed, sift confectioners' sugar onto the top of the cake and it's ready to serve!
Share to Facebook