Christmas Tree Cupcakes. #christmasa #cupcake #cake #dessert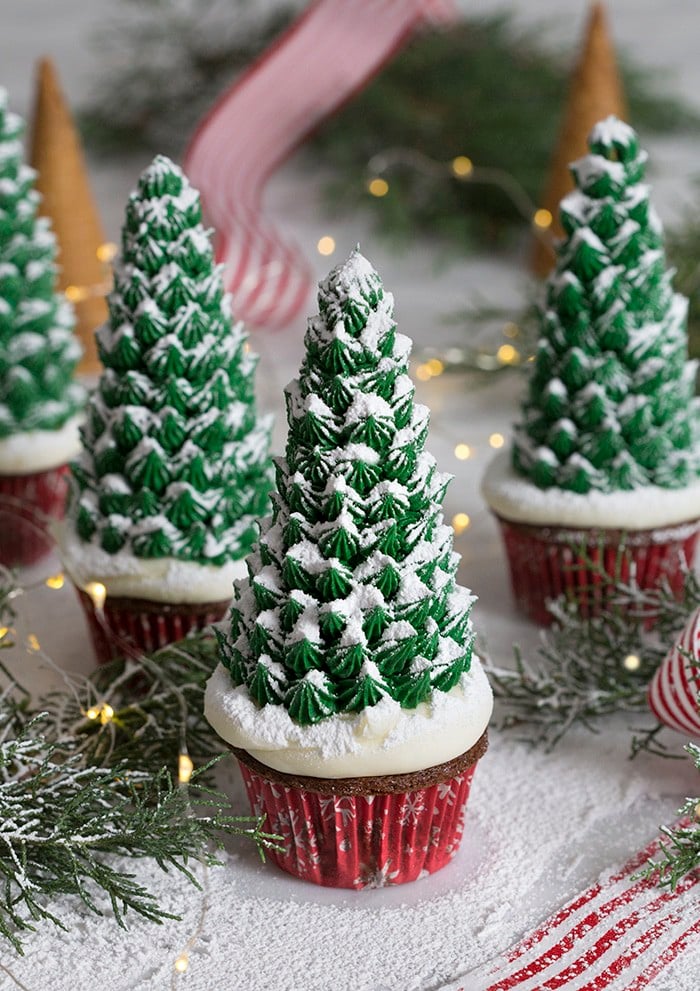 Ingredients
For the frosting and Christmas trees
12 sugar cones
2 lbs confectioners' sugar 910g, plus more for dusting
1 pound unsalted butter 454g, room temperature
1-2 tbsp milk or cream 15-30mL
1 tsp vanilla extract 5mL
20 drops green food coloring
For the cupcakes
1 1/2 cups all-purpose flour 180g
1/2 cup unsweetened cocoa powder 60g
1 tsp baking soda 6g
1/2 tsp salt 3g
1/2 cup buttermilk 118mL
1/4 cup sour cream 60g
1 1/3 cups sugar 267g
2 large eggs
1 tsp vanilla extract 5mL
1/4 cup strong coffee 60mL
1/2 cup melter butter 115g, optional
Instructions
For the Cake
Pre-heat oven to 350F. Add paper liners to cupcake tin.
Sift the dry ingredients, including sugar, together in a bowl.
Whisk together the milk, vanilla, eggs and sour cream in a small bowl. You can add in 1/2 cup of melted butter for extra rich cupcakes but it's not a must.
Add the dry mixture to the milk/sour cream mixture while the mixer is running on low. Mix for a minute or less.
Scoop about three tablespoons for each cupcake. Bake at 350 for about 15-20 minutes or until the center is set.
For the Frosting
Cream the butter. Add the sugar and mix on high. Add the milk a tablespoon at a time until desired consistency is reached.
In a separate bowl add about half of the frosting and the green food coloring, mix until combined.
For the Assembly
Cover the cupcake in white frosting. It doesn't have to be smooth, a bit of texture will make it look more like snow.
Use a spatula to apply a thin layer of green buttercream to the surface of the cone. This will help the dollops you apply stick to the cone better as well as making the trees totally green (in case your dollops don't give full coverage).
You can fill ice cream cone with candy and then place on the cupcake
Use a number 30 tip to pipe star-shaped dollops onto the surface of the cone beginning at the bottom and working to the top.
Sift confectioners' sugar onto the cupcake and it's ready to serve!
Share to Facebook